Chef Khan's Chickpea Masala & Naan Bread Recipe
Eat To Live, Live To Eat, With Chef Khan

A delicious, mouthwatering Indian recipe for every Indian food lover out there! Try Chef Khan's Chickpea Masala & Naan Bread recipe & fall in love!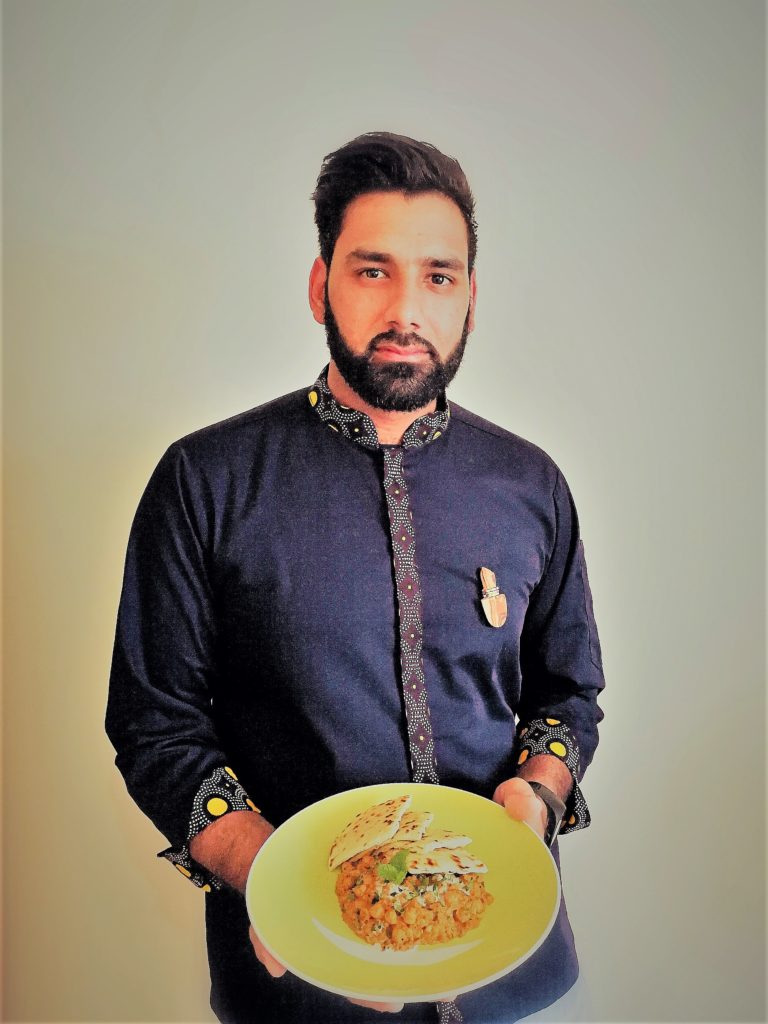 Rizwan Khan- The Culinary Expert
Sankara Hotel │ Sarova Stanley │ Park inn by Radisson │ CUT by WOLFGANG PUCK (DOHA)
Chef Khan's Chickpea Masala & Naan Bread- A Delicious Indian Recipe
CHICKPEA MASALA AND NAAN BREAD (2-3 SERVINGS)
CHICKPEA MASALA INGREDIENTS
3 tablespoons of cooking Oil
1 teaspoon Cumin seeds , ½ teaspoon poppy seeds, 1 ½ teaspoon of garlic paste ,1 teaspoon of ginger paste, (1 teaspoon chopped green chilies optional)
½ onion roughly chopped, 2 tomatoes chopped roughly, ¼ bunch coriander chopped (blend these
ingredients till smooth making a paste)
Spices – turmeric, cinnamon powder, curry powder, garam masala , chaat masala , chili powder , salt ,pepper , cardamom powder, coriander powder. (Put a pinch of all the spices- you can adjust if needed)
Juice of ½ lemon squeezed
Tinned chickpeas (1 tin)
Coconut cream 40ml (4 tablespoons)
Fresh coriander 15 grams for garnish
METHOD
STEP 1
Add oil into the cooking pot to become medium hot. Once oil is hot add in the cumin seeds followed by the poppy seeds and cook for a short time.Add in your ginger garlic and let it cook around for 20 seconds (keep stirring). If adding green chilies add them and then add your blended paste and lemon juice in and cook for around 5 minutes and keep stirring (add some water if needed).
STEP 2
Once your gravy has cooked you add in all your spices and stir and taste to adjust seasoning. At this stage you should cook this for around 2-3 minutes and then add in your chickpeas (make sure to drain the water out from the tinned chickpeas).
STEP 3
Give your chickpeas a good stir in the gravy and then add in coconut cream and stir well
STEP 4
Plate and garnish with coriander.
NAAN BREAD INGREDIENTS
1 cup flour , ½ cup cold water , ½ teaspoon baking powder, ½ teaspoon yeast, (1 teaspoon garlic paste optional), 1 pinch of salt, 1 tablespoon of oil.
METHOD
STEP 1
Mix all the dry ingredients together and garlic and mix it up nicely. Slowly add in your water and oil and knead your dough till it's soft and combined all together. If need be you can add flour or water whichever is needed and shape your dough round
STEP 2
Cover and rest the dough for at least 20 minutes in a warm place before using.
STEP 3
Dust your working space and divide the dough into 4 pieces and roll out each of them with a rolling pin.
STEP 4
Heat up a nonstick pan and apply some oil and place your rolled dough into the pan and cook both sides evenly. Apply some butter and cut into quarters and serve with the chickpea masala.