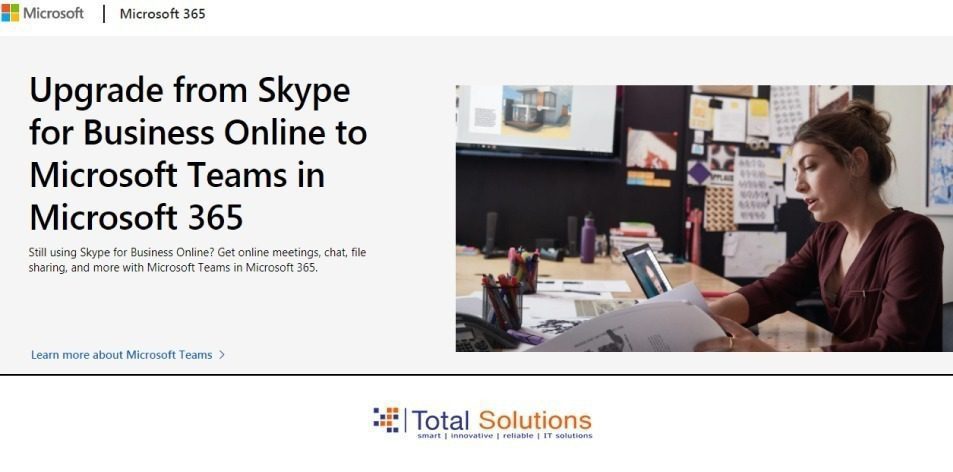 Total Solutions Ltd: Empower your team, safeguard your business and simplify your IT management all with a single solution- Microsoft Office 365

TOTAL
SOLUTIONS
Smart | Innovative | Reliable | IT Solutions
Microsoft Office 365
Sign in to use your favourite productivity apps from any device
Skype for Business
Learn how to chat across continents, in real time, get live updates and feedback, as well as collaborate with others on your team using Skype for Business.
Meet with anyone, anywhere
Instant messaging one-to-one or with a group
Make & receive clear real time calls
Use collaborative tools to add, edit or update files, folder, documents as a group
Microsoft Teams
Chat
Share your opinion and have fun with your team. Send GIFs, stickers, and emojis in a group chat or in one-to-one messages.
Meet
Instantly go from group chat to video conference with the touch of a button. Teams of two or 10,000 can meet in one place from anywhere.
Call
Make and receive calls directly in Microsoft Teams with advanced features like group calling, cloud voicemail, and call transfers.
Still using office Home 2010? Upgrade to Office 365 Right Now!!
Achieve more with updated apps & services from office 365. Work across multiple devices by installing office 365 on your PC, tablet and smartphone, there's no need for an internet connection to access documents.
---

Location:
Amee Arcade, 3rd Floor
Westlands, Nairobi
Contact Us:
WhatsApp Us (+254) 702-610 087