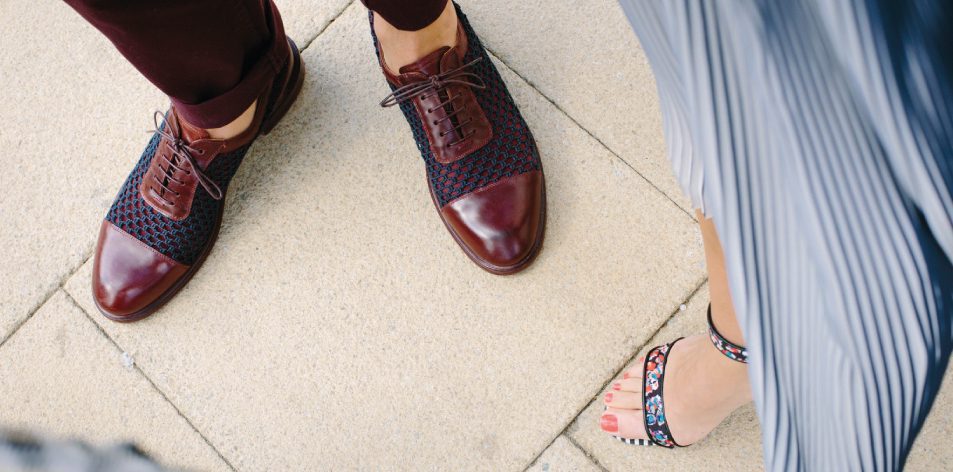 Top 4 Shoe Trends By H&S Fashion Guide
Classy Shoe Trends 2018- H&S Tips For Him & Her
Shoes have always been the guilty shopping pleasure not just for women but also for men! The type of shoes you wear speaks volumes about your personality and style! H&S Fashion Guide has narrowed down the list to 4 classy shoes that we recommend for reasons beyond style! If you own these then you know, you are the epitome of elegance as well as good taste! Read on to find out what made it to the H&S top 4 Shoe Trends List!
For Her
1. Simple Black Strappy heels- This is our favourite! You know you can't go wrong if you own these! They are black and they are elegant and can be worn with anything from tight denims to formal wear! Make sure ladies you have these on your list!
2. PVC Heels- Windows To The Sole- Another of our favourites! These pretty translucent heels are fun & flirty and come in different hues, our favourite- candy-coloured hues! You can wear them with anything at all and for this reason they are the must-haves for the season! Make sure ladies you own one of these!
3. Get Your Sparkle On! Who doesn't love glitter? Get glam and glitzy with glittery footwear be it shoes, boots, sandals- you name it! They are gorgeous and can illuminate the ordinary & help you shine! You can wear a pair of your favourite jeans with a crop top and throw these on & voila you have a glamorous look! So what are you waiting for ladies? If you don't owe a pair as yet it's never too late!!
4. Gem, Crystal Embellished Heels- If you are to attend a gala and want to look stunning then you have to get one of these! Heels with a little bit of gems and crystals look stunning! They come in all colours and the best part is if you have a plain evening gown and you want to add a little sparkle all you have to do is slip into one of these! Another must-haves on our list!
For Him
1. Loafers For The Laid-back Man- Our all time favourite, even though they are the least formal pair of shoes! We can't emphasize how much we love the loafers! Our favourites include the suede and leather loafers. They can be plain or with tassels or buckles! Men these babies aren't just comfortable but sleek and stylish! All you need to do is slip into one of these beauties in the morning before heading to work!
2. Oxfords For The Super-Classy Man- Another classy pair for the stylish, classy man! This is the standard for formal office shoes! So every man who owns a suit must definitely have a pair of Oxfords!
3. Dress Boots For The Sexy Badass- Another of our favourites! Every man needs one of these high fashion, badass leather or suede boots.  You can wear them especially during the cold weather months. If you want to pass for the sexy bad boy look, just wear these boots!
4. Brogues For The Perfect Gentleman–  The perfect pair for work, wedding or funeral- you name it! You can wear these with anything from jeans to suits! Men if you want to stand out as classy and elegant, make sure you owe a pair of these!
What's Your Favourite Shoe Trend? Comment Below!!
Keep reading this section as we share with you our favourite fashion tips, trends & styles!- H&S Fashion Tips