Talinda East Africa: Present Now, Display Your Way
TALINDA
East Africa
Simple · Responsible · Creative
Present Now, Display Your Way
For quality meeting room systems, we help you invest in products and solutions that connect, convert, and distribute audiovisual controls, video conferencing, presentation systems, digital signage and audio systems. Meeting room solutions will cut across a range of industries and environments from classes, office huddle spaces, conference rooms, lecture halls, simulation facilities etc.
Keys To A Successful Meeting Room System
Any collaboration technology today should be able to create a meeting room from any modern workspace with easy to use, schedule and remote management capabilities. Hence, it won't matter if you are designing a small huddle space or a larger conference room, it's critical to simplify and enhance meetings by providing the right collaboration technology.
A Good Meeting Room System Should Support:
1. Scalable Solutions – collaboration technology must be customizable to meet the needs of different meeting room spaces from huddles to larger, more complex conference rooms.
2. Intuitive solution – Users can enter and easily use the space without getting training on the system.
3. Flexibility – Users share and mirror content from their phones, tablets or laptops via a wired or wireless connection.
4. Security – To support scalable solutions to rooms within the enterprise, the system must be connected in a secure network for monitoring, remote support, and firmware updates.
Our Meeting Room Solutions Include:
1. Presentation Systems:
LED Screens are flat panel displays used for video display, informational or decorative purposes. They are robust, come in an array of sizes and relatively affordable. Due to their higher resolution than projectors they are often an alternative to traditional projector screens.
Smart boards/ interactive whiteboard (IWB) – a large interactive display board that is in the form factor of a whiteboard. In the past, whiteboards were manufactured and designed for office use in small meetings rooms and brainstorming round tables.
In essence, a smart board will only function when connected to a computer, an LCD display, and a projector. Therefore, displaying content from a computer screen. Once connected, the IWB transforms into a large, touch sensitive version of the computer screen. Teachers and students can control the screen with a special pen or hand instead of a mouse. So in the case of a classroom, students and teachers interact with images, write notes, draw graphs, save, download and share info from the smart board.
Talinda is the top installer and supplier of Interactive Smartboards in Kenya. Also referred to as digital whiteboards or interactive boards, Smartboards promote collaboration among creators, doctors, students and colleagues for group discussion and team participation. Like flip boards, they are effective brainstorming tools. With this, participants can take notes, save, share them on-the-go and distribute them later.
Projectors Also known as an image projector is an optical device which projects singular image onto a surface like a projection screen. A video projector, otherwise known as a multimedia projector is a common presentation feature in classrooms and boardrooms alike. It functions through taking a video signal, converting it into a viewable image, and then projects it on a surface or screen. With a projector, you get the ability to present PowerPoint slideshows, text, and audio visual content in high resolution and full-color. Typically, the projector features computer, VCR, CD and DVD player inputs.
Video walls is a special setup of multiple monitors of computer monitors, or video projectors tiled together to make one large screen. A video wall can be as simple as one image from a single source stretched across multiple screens. The video wall is useful in displaying several images from different They offer greater control, scalability, and creativity in meeting rooms.
Wireless presentation systems This is a device that lets you mirror content from a laptop or mobile device to a shared flat panel, screen or projector without the need to plug in cable making it an easy to use and time saving presentation tool. We supply Kramer Via and Barco ClickShare.
Projector/ Projection screen is a reflective surface usually white that is hang against a wall a few meters from a projector for displaying a larger image or video during trainings, classes, work meetings or for entertainment.
2. Audio Systems
Speakers Our range of surface mount, ceiling mount and pendant speakers are designed to meet your specific needs. Your selection of speakers will depend factors such as aesthetics, size of meeting space, whether the meeting room ceiling is "sealed", budgets and people in the meeting.
Amplifiers & Subwoofers
Microphones Obviously, a huddle room doesn't often need a costly wireless/wired system with individual mics for each participant since every voice can be heard with ease in small spaces. Nevertheless, mid-size to large meeting rooms cannot flourish with a single microphone in the middle of the table. Some speakers won't be heard and even moving spots to speak can disrupt the meeting.
Microphone Options when deciding on the mics of choice factors that go into play include room layout, audio requirements of team, noise levels needed, wireless microphones, compatibility with BYOD infrastructure like laptops, installation method sought out, room architecture and design.
Ceiling Mics are ideal for decluttering meeting room with wires and lining your tabletop, while ensuring a 360-degree audio pickup. The mics are best suited for medium to large conference rooms. You are free to install more than one mic in the room to pick every single speaker. Pretty straight forward, ceiling microphones are mounted and embedded into your ceiling with an industrial finish or hang like a chandelier to blend with your décor. With high ceiling conference rooms, hanging microphone are often necessary to guarantee capture of every voice in the room.
Gooseneck Mics Like the name implies gooseneck microphones have an uncanny resemblance to a goose's neck. However, they are the best choice for guaranteeing perfect audio quality. Each seat is paired with a dedicated microphone. The advantage is they do not pick up background noise. On the flipside, they clutter your table with equipment.
Boundary/ button Mics The setup is fairly simple, these small square microphone is placed on a "boundary," essentially a mounting surface. Typically, this mic is mounted and embedded within/on/under the table. They pickup voices of all speakers in front of them. They are common in most meeting rooms as they are relatively cheap, neat and great at picking up voices albeit at higher frequencies
3. Video and Audio Controls
From your background music in theatres, your evacuation system in the conference rooms, your meeting room AV systems to your audio visual distribution and control system, we have all the right equipment for you. Your meetings your way. Here are some solutions you will require for the perfect system.
Matrix switches and Scalers These presentation devices are designed as an all-in-one solution for your multi-format switching needs. The unit switch inputs then it scales the output quickly so that your presentation looks seamless and correct. Some will include integrated multi viewers for windowing requirements and also audio amplification. Presentation switchers and scalers function as collaboration tools routing multiple audio and/ video sources to multiple audio and/ video destinations. Thus the matrix switcher accepts audiovisual signals from variant input sources such as cameras, computers – and thereafter routes the output to different destinations, like projectors, interactive smartboards, and video conference codecs.
Pop-ups and Table Boxes are table mount solutions for boardroom and conference room applications.
AV cabling works & software Talinda is your source for meeting room AV designs, infrastructure, software and solutions. We have a large selection of AV cables, connectors, links cables, wires and plugs for audio and video systems for AV equipment.
4. Video Conferencing
Video Conferencing System Video conferencing is an audio visual technology that enables users in different locations have face-to-face meetings/ communication without any need to physically meet in one common location. It is a convenient technology for business users in different countries or towns since it saves time, travel costs, and hassles related to business travel.
Despite this, video conferencing systems and equipment can be quite expensive and intimidating to many businesses. Our modern video conferencing kit, enables individuals and businesses hold their important meetings or classes hassle free with low Total Cost of Ownership. VC kits are easy to use, manage and most importantly, plug-and-play thus reducing the need for technical teams to be involved in set up, installation and configuration process.
Depending on the scale, these kits can be installed in small startup huddle rooms with two people to large scale meeting rooms like boardrooms, schools, churches and embassies.
5. Digital Signage
Meeting room booking system and Digital Signage displays are handy when you want to display information on conference meetings showing ongoing schedule, as well as having a meeting room booking and scheduling systems. These displays are extremely customizable to your brand requirements.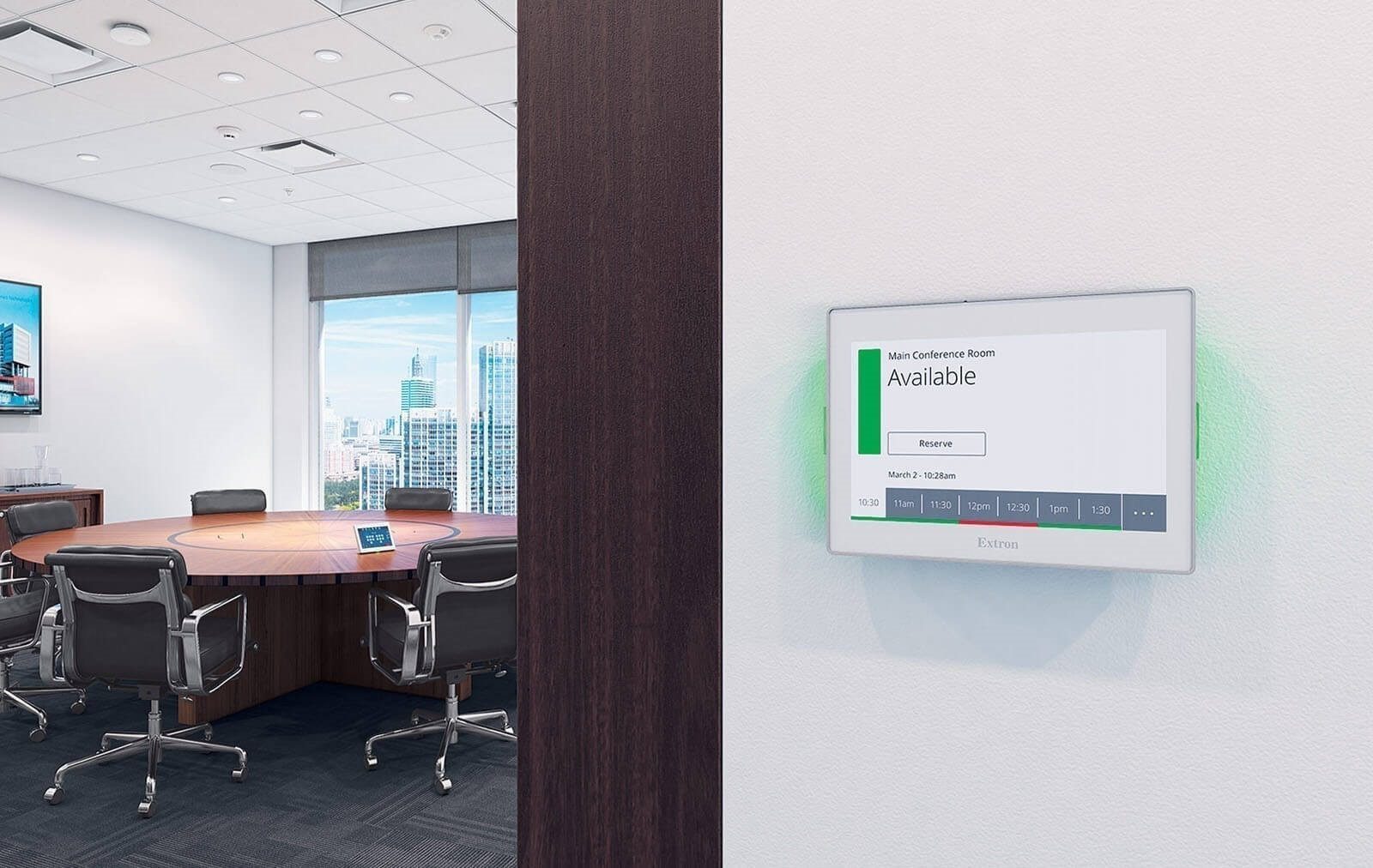 Whether you are looking for a huddle space, breakout room, boardrooms, lecture halls or auditorium meeting room solution, Talinda East Africa has you covered. Our team of audio visual engineers are well equipped to turn your ideas into reality with an excellent solution.
---

Location:
Kabarnet Road, off Ngong Road, Nairobi Kenya
Contact Us: