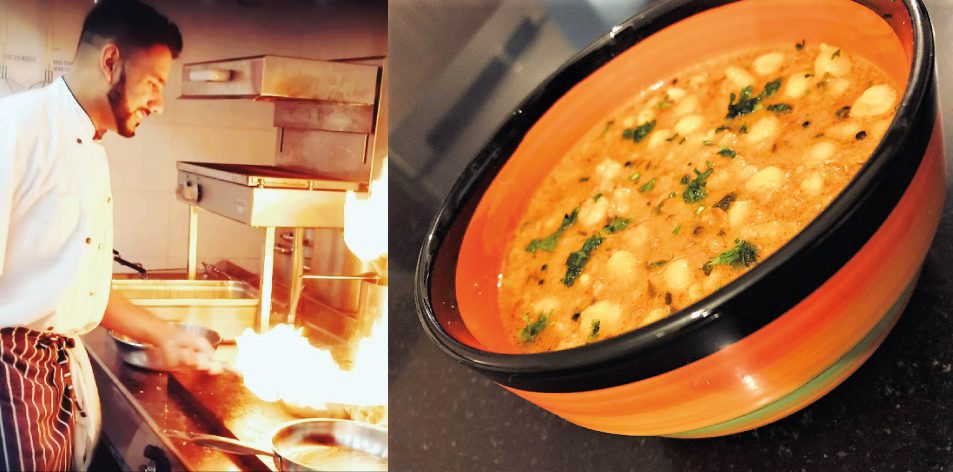 Maize In Coconut & Peanut Sauce By Chef Khan
Eat To Live, Live To Eat, With Chef Khan

Maize In Coconut & Peanut Sauce by Chef Khan is creamy & full of flavours- a perfect recipe for this weather! Make sure you try this delicious recipe & let us know your comments below!
MAIZE IN COCONUT & PEANUT SAUCE
MAIZE IN COCONUT & PEANUT SAUCE (5 Servings)
INGREDIENTS
2 cups of maize off the cob
1 tablespoon mustard seeds
1 tablespoon cumin seeds
1 tablespoon garlic paste
1 ½ green chillies chopped
5 tomatoes blended
¼ cup lemon juice
½ teaspoon turmeric
1 tablespoon red chili powder
1 cup coconut cream
handful of roasted peanuts chopped
¼ bunch coriander chopped (for garnish)
METHOD
STEP 1
Boil the maize for at least 10 minutes and set aside.
STEP 2
Heat oil in a pan and add the mustard and cumin seeds and garlic and sauté.
STEP 3
Add in the tomatoes, salt, turmeric, green chilies, red chili powder, lemon juice and cook the tomatoes for at least 5-7 minutes then add the roasted peanuts, corn and coconut cream and adjust seasoning if need be.
Garnish with coriander & serve hot!
If You'd Like Your Recipe To be Published Then Here's Your Chance! Send Us Your Recipe With Your Picture To [email protected] & Who Knows You Could Be In The Next Issue As Our Featured Recipe Of The Week!
Add This Recipe To Your Yummly Recipe App