How To Make Your Bathroom Appear Large?- H&S Homes & Gardens
8 Ways To Make Your Bathroom Look Large & Spacious
Who hasn't dreamt of having a large, luxurious bathroom? Well, we all have at some stage, but reality may be different. However, who said you can't have a large bathroom? So what if you can't fit in the dual sink that you dreamt of or a bathtub? Your bathroom can easily appear larger than its actual size if you pick the correct colour palette and fixtures, & utilize some clever visual tricks!
1. White, White & More White Please-
From white tiles to white paint to a white vanity, by incorporating a lot of white you can easily make your space look bigger as it reflects light & gives a smooth & continuous look!
2. Tone-On-Tone An Alternative To The All White-
If you don't like the all-white look then maybe you can opt for a tone-on-tone palette to give the same feel and look like the colour white. Opt for light beige, greys or light pale blue. Pick the tiles & paint that complement each other by using one of the shades within the tiles. This will still give a continuous look, giving the space a bigger look & feel.
3. Pick The Correct Vanity For Your Bathroom-
If you want to be able to have space for storage without compromising on the 'compressed space' look try to add a floating vanity. This gives you enough room to store your toiletries, etc but the space below the vanity and the floor, makes the bathroom feel bigger as well as giving you legroom. Alternatively, you can try using a small vanity unit that can make your space look roomier.
4. Large Mirror-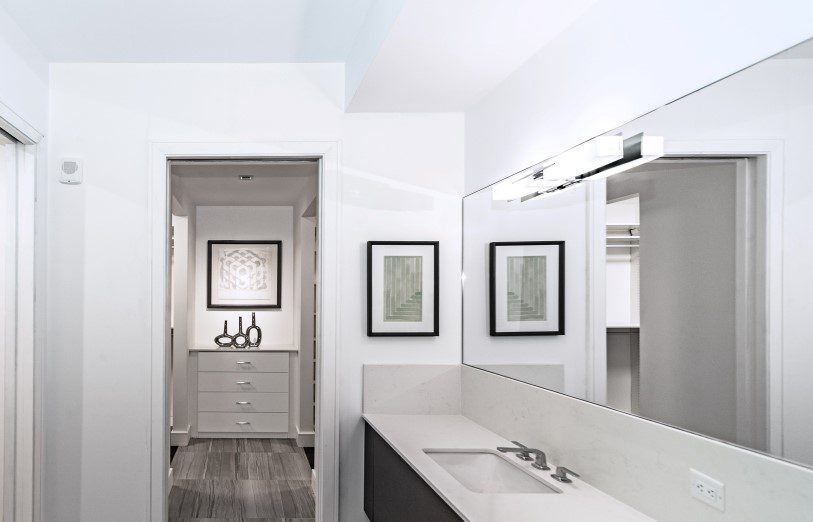 A wall-to-wall mirror can make a lot of difference, by doubling the size of your bathroom space, so can a large mirror. If you are going for a large mirror pick a nice frame to give a polished look!
5. Glass For The Shower Area-
Instead of using a wall to separate the shower area or a shower curtain, make use of a glass panel or a glass door. This gives the bathroom a bigger look due to the open space, even though there is a glass wall in between.
6. Ditch The Tub & Go For The Shower-
A tub can occupy a lot of space and if you have a small bathroom, it's advisable to ditch the tub and opt for a shower instead. You can go for a fancy rainforest shower head or a shower panel with multiple jets. This way you get a luxurious alternative to the bathtub as well as a lot of free room space available.
7. Use Bright Lighting-
Lighting plays a big role in how space is perceived, it is, therefore, important that there is good lighting in the bathroom using multiple light sources having light coming from several directions giving the space a larger look.
8. Add Niches-
Open niches can add a lot of visual depth to the walls giving your bathroom a larger appearance as well as adding more storage space in your small bathroom.
H&S Magazine the top magazine in Kenya