Decorative Pillows For Your Living Room, Dining Room & Bedroom By Mabel
Style Your Living Room, Dining Room & Bedroom With Decorative Pillows
Are you craving change? For an instant home makeover, try throw pillows.
See, for quite sometime now, I have found so much pleasure, when it comes to decorating with throw pillows around the house. Different decorative pillows to be precise, be it in size, colour or shape. I love all forms that they come in, and being a throw, they can easily be placed anywhere. What is your living room decor signature?
When you buy your sofa, that perfect throw pillow on it gives it that final exquisite look. Making your decorative pillow, your perfect home decor piece signature. Along with other items of decoration, decorative pillows are the most important when it comes to making any space gorgeous and charming.
Mostly for the purpose of decoration, your pillows will be rectangular, square or circular. Corded and tasseled decorative pillows add an attractive and elegant look to your home. Natural coloured decorative pillows provide a chic and sophisticated look to any modern decor.
What are the two major factors to put into consideration when it comes to purchasing your decorative pillows.
Texture
Make sure that the pillow you choose have outstanding suppleness and softness. The filling of your pillows also matters. You might want to go for a firm pillow that is still perfectly fine.
Faux fur pillows, who doesn't love them? They have a tendency of giving that majestic ambiance and elegance.
Pillow size
The size of the pillow you settle for, be it for seat decoration or bed, matters highly. Choose a pillow size by first determining your bed size. When the pillow compliments your bed size it looks great and provides support. When it comes to the living room, large pillows give a great appeal.
Where and how would you play around with your decorative pillows? Round, square, rectangular, large, small, plain, colourful? Whichever form your pillow comes in.
LIVING ROOM.
You can have your decorative pillows in any cozy room that you so wish as it's a decorative piece when it comes to interior decor. Your living room can easily transform into a relaxing retreat with just a touch of decorative pillows. Knot pillows have turned out to be pretty amazing pieces when it comes to decorating the living room and the bedroom. Knot pillows are so cozy and come in soft pastel colours. The knot pillow has much power over a room. Even though it doesn't look much like a conventional pillow it brings playfulness and trendiness into a space. It is also a comfortable piece for supporting the head.
When it comes to decorating your sofa, two pillows arranged nicely is perfectly good as it gives you room to add a throw pillow. This imparts a sense of symmetry and order. Ensure the two pillows are of the same shape and size for eye pleasing proportions. Such beautiful arrangement keeps things lively. When using floral patterns try pair them with a plain, simple pillow.
BEDROOM
When it comes to decorating your bed, a few big pillows look neater than a jumble of smaller ones. These big pillows create a more casual, loungy feel. But an additional piece of a decorative pillow transforms the whole room. If you are aiming at a modern look, a limited colour palette and large geometric prints on a smooth cotton fabric works perfectly well in bringing this look.
(This is one perfect look created by my client Nanteza Norah from Kampala, Uganda).
I tend to think large faux fur pillows look perfectly good on the bed. To create that eclectic look, even number of large pillows create that pleasing look. If you will have more pillows, keep them simple through fabrics.
When it comes to decorating your bed with pillows there are a few things to consider.
Use odd numbers.
Create a mixed colour palette.
Consider size.
DINING AREA.
This needs a lot of creativity as the seats you settle for might hinder you from playing around with your pillow but see we have the floor. Get a little creative with a uniquely stylish decorative pillow.
CONSOLE TABLE.
Ever thought of having one decorative pillow among your console decor pieces. See this perfect look created by one of my clients. ( Joan Ngare from Nairobi, Kenya)
What are some of the other ways you can best use your decorative pillows?
Decorative pillows can further be used to bring out room themes perfectly. This can be done through using storage materials to perfectly showcase your pillow with the room theme.
Throw your decorative pillow perfectly in a basket and set it nicely on the floor where it can be easily noticed.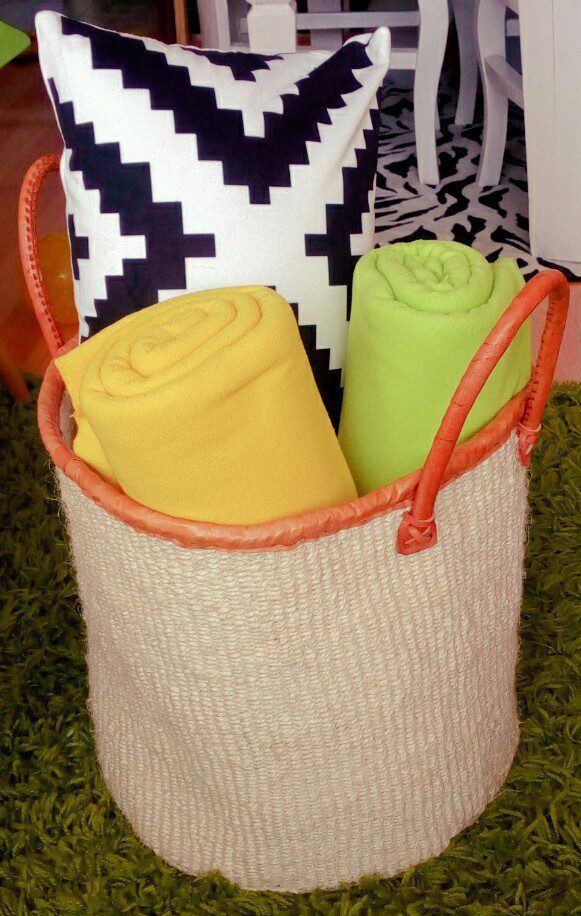 They can further be used for room set ups, probably for photo shoot. Just a good throw pillow completes the whole look in that setup.